KWO MultiTex Sheet – ePTFE Gasket Sheet
KWO® MultiTex® Sheet is produced from 100% pure expanded PTFE without any pigments, inks or adhesives, and therefore especially suitable for clean applications.
The flexible material adapts well to sealing surfaces, compensates irregularities and seals at very low stresses.
Suitable for use in metallic flanged, as well as stress sensitive connections. Seals most chemicals across the whole pH range (0-14).
---
---
---
Technical Data
| | |
| --- | --- |
| Material | 100% biaxial expanded PTFE (ePTFE) without fillers, without pigments or ink |
| Chemical resistance | in the entire pH range (pH 0-14, except molten alkali metals and elemental fluorine) |
| Temperature range | -268°C (-450°F) up to +270°C (+518°F), short-term +315°C (+600°F) |
| Pressure resistance | vacuum up to +200bar (3000psi) depending on the installation situation* |
| Physiologically inert | physiologically harmless in all recommended applications |
Quality assurance
The KWO Quality Management is certified according to DIN EN ISO 9001. Our suppliers are also integrated in this quality system. We use exclusively high quality raw materials in the fabrication of our products, which provide the highest level of safety and reliability.
Available Dimensions
Length x Width
[mm]

Thickness [mm]*

1500 x 1500

0,5

1,0

1,5

2

3

4

5

6

7

8

9
To order, please use the following text
MultiTex Sheet, 1500x1500x _ _ mm, pieces
(Length) (Width) (Thickness)
---
The p-T diagram indicates the service limits considering the simultaneous influence of pressue and temperature.
Range 1: Typical service limits
Range 2: Maximum application limits, after technical verification
| | | |
| --- | --- | --- |
| QMIN (0,01) | 28 Mpa | DIN EN 13555 |
| QS MIN (0,01) | <<10 Mpa | DIN EN 13555 |
| PQR(30 MPa 20°C) | 0,94 | DIN EN 13555 |
| PQR(30 MPa 150°C) | 0,67 | DIN EN 13555 |
| maintenance factor m | 2,5 | ASTM |
| seating stress y | 2800 psi | ASTM |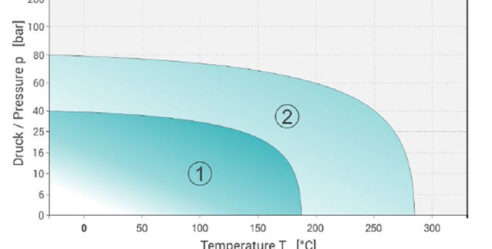 Made in Germany
International Presence
Represented in over 46 countriestries